Latest News
Bangkok Street Food Festival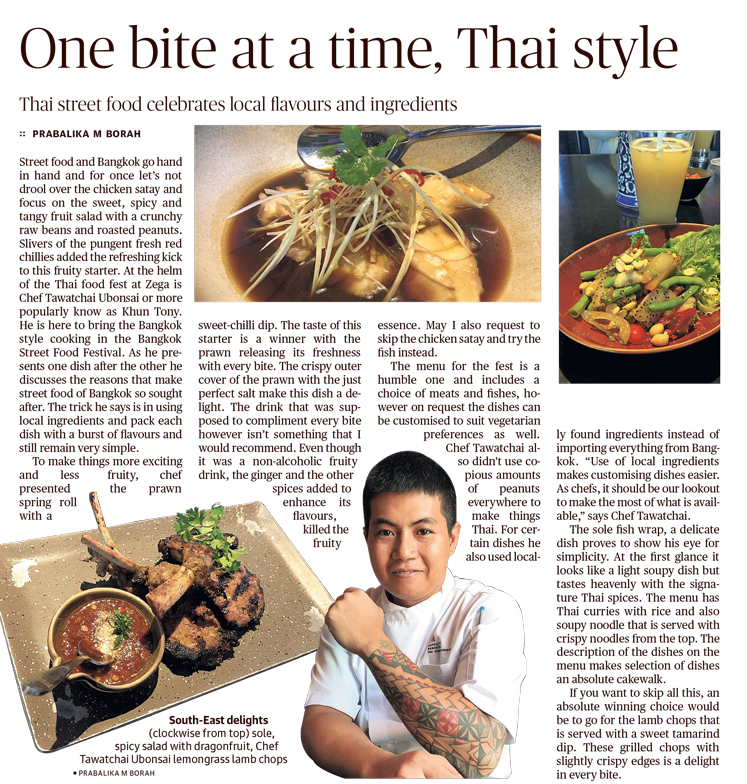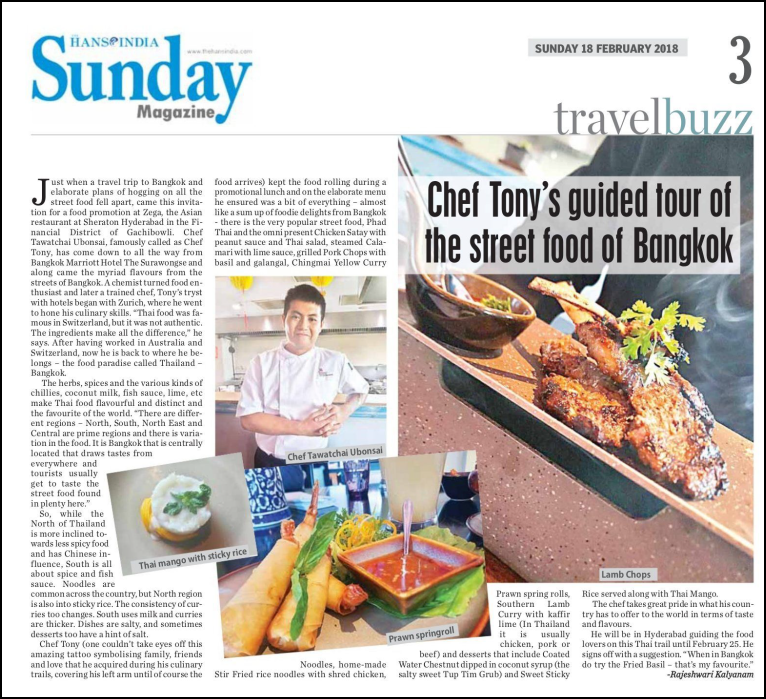 Original Article Courtesy - February 2018 issue:
_____________________________________________________________________________________________________________________________
Go Beyond - Personalised cocktail
As part of the brand's 80th anniversary, Sheraton Hyderabad Hotel launched its signature Go Beyond campaign that brought to the table many experiences that intend to give their patrons an interactive experience. The campaign promises better stays and hospitality to guests. An interesting part of the Go Beyond experience was the personalised cocktails which were served to suit the taste of the guests at Zega, known for its authentic Pan Asian cuisine. As part of the experience which was for a select few recently, the mixologist met the guest to find out their preference of alcohol and a signature ingredient. One could also choose a herb, a fruit or a spice.
After we chose an alcohol and a base ingredient of our choice, the bar tender fixed up a cocktail using them as the main elements along with whatever complements them. The beverage was then served on a platter named after the one who ordered. Before we left, the mixologist provided us with the recipe of the cocktail named after us. Mine was Vidyatini!
The cocktail gets as creative as the ingredient one picks. Whether it's a spice like cinnamon or vanilla, or a herb like mint, or even a gentle fruit like litchee, you can be sure to be surprised with a fancily decked up drink suited to your taste and presented to you literally with your name on it. Complemented with the vast spread of Asian fare and an amicable staff, the Go Beyond experience left us with great memories. The customised cocktail event may be over, but the Go Beyond motto continues.
Original Article Courtesy : The New Indian Express- January 2018 issue
_____________________________________________________________________________________________________________________________
Articles - 2017
An Asian palate persuasion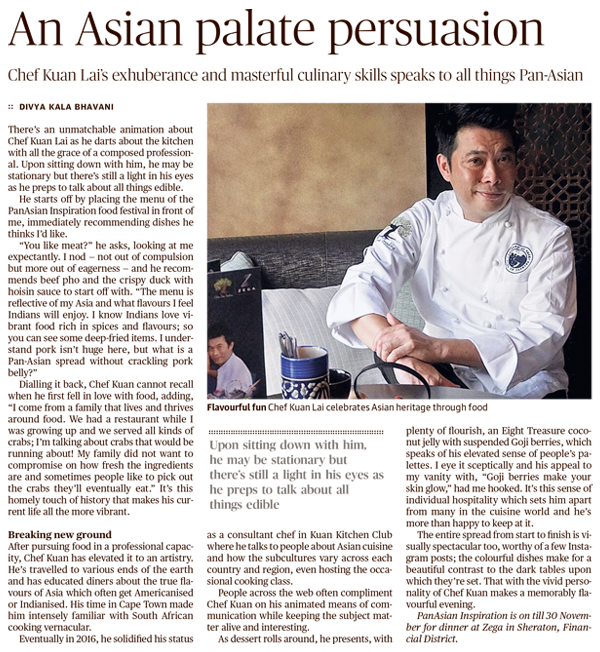 Original Article Courtesy : The Hindu - November 2017 issue
_____________________________________________________________________________________________________________________________
Staycation at Sheraton Serviced Apartments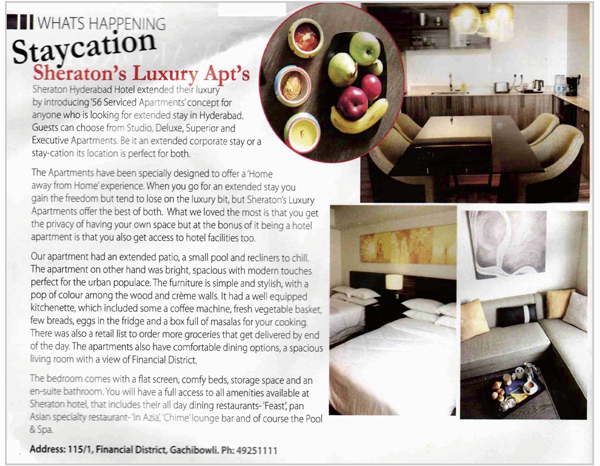 Original Article Courtesy : Tulip Magazine- October 2017 issue
_____________________________________________________________________________________________________________________________
Pamper your sweet tooth at Feast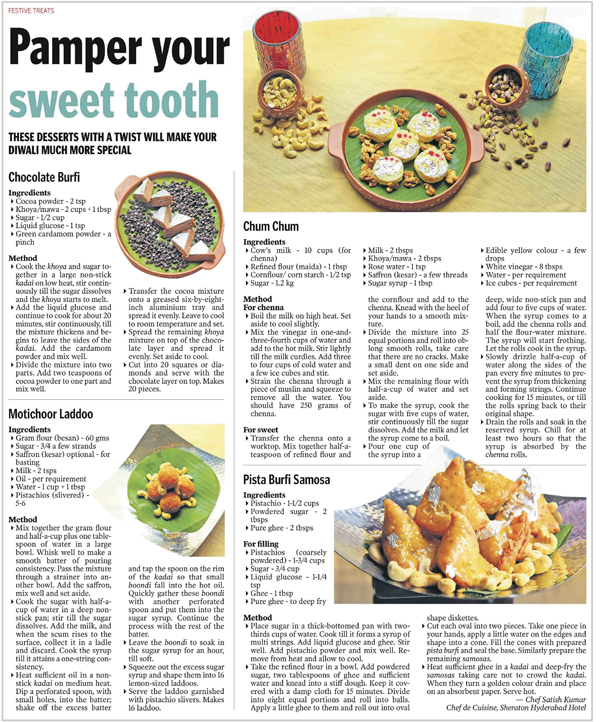 Original Article Courtesy : Telangana Today -17th October 2017 issue
_____________________________________________________________________________________________________________________________
Culinary Heroes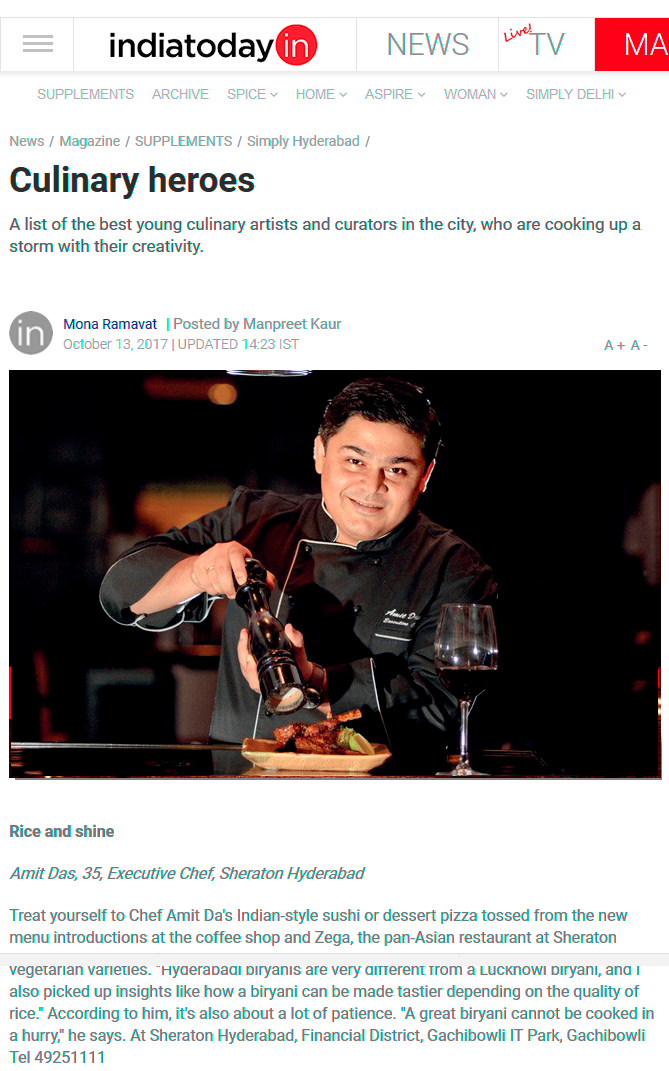 Original Article Courtesy : India Today - 13th, October 2017
_____________________________________________________________________________________________________________________________
Sugary Navratri - Kheer Recipe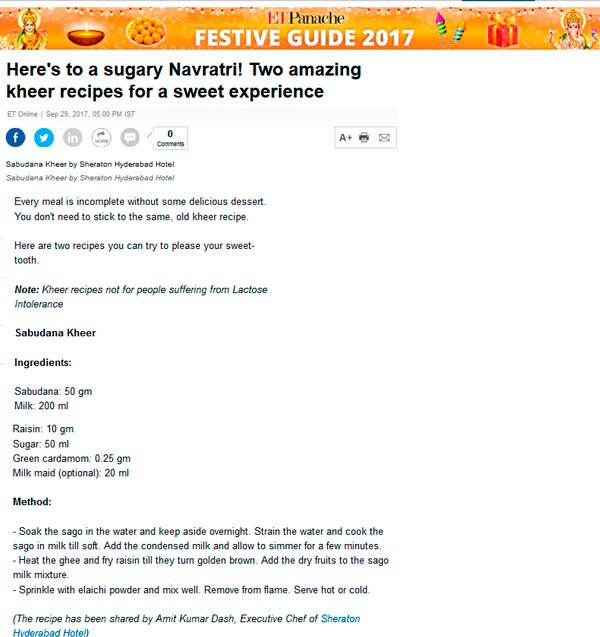 Original Article Courtesy : Economic Times - 29th, September 2017 issue
_____________________________________________________________________________________________________________________________
Festive Treats to Feast on this season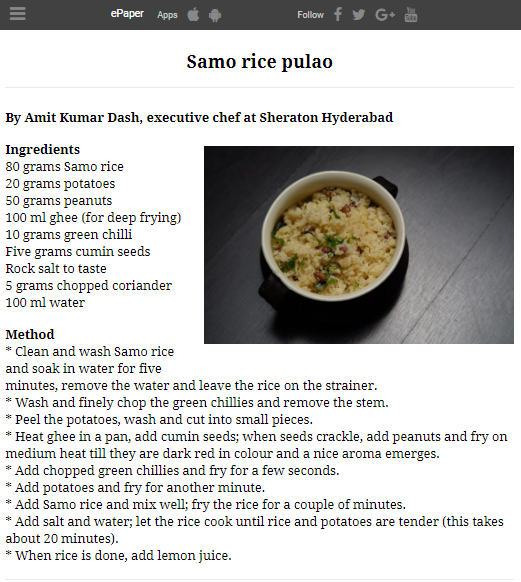 Original Article Courtesy : Telangana Today - 26th, September 2017 issue
_____________________________________________________________________________________________________________________________
Stylize your simple Navratra food with new variants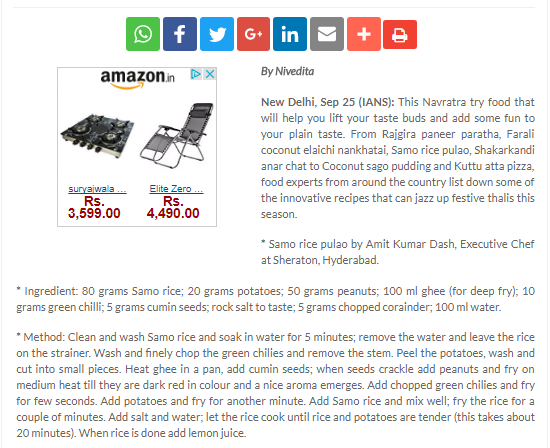 Original Article Courtesy : Dhaiji World News -25th September 2017 issue
_____________________________________________________________________________________________________________________________
Zega Review - Times Of India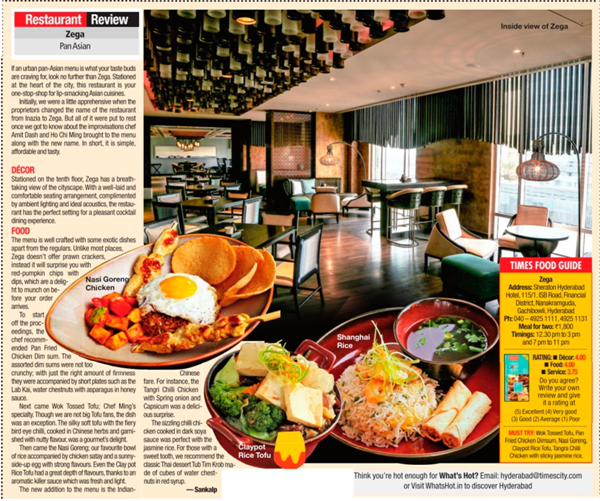 Original Article Courtesy : Times of India - September 2017 issue
_____________________________________________________________________________________________________________________________
Rejuvenate in The SPA
Original Article Courtesy : Telangana Today - September 2017 issue
_____________________________________________________________________________________________________________________________
An extensive menu awaits at Zega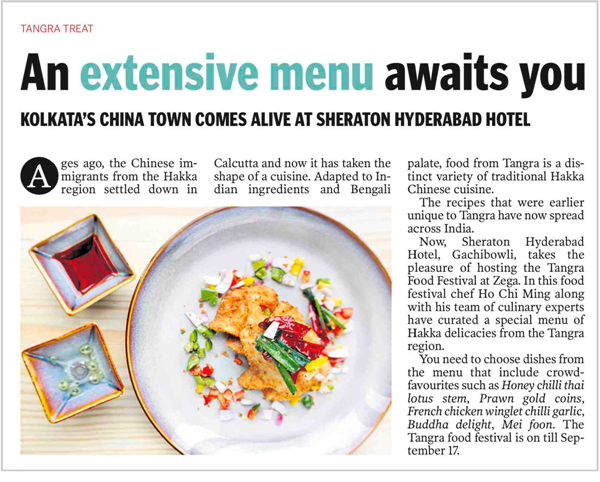 Original Article Courtesy : Telangana Today - September 2017 issue
_____________________________________________________________________________________________________________________________
Go Asian at Sheraton Hyderabad
Original Article Courtesy : Upper Crust - July-September 2017 issue
_____________________________________________________________________________________________________________________________
Asian Fun Dining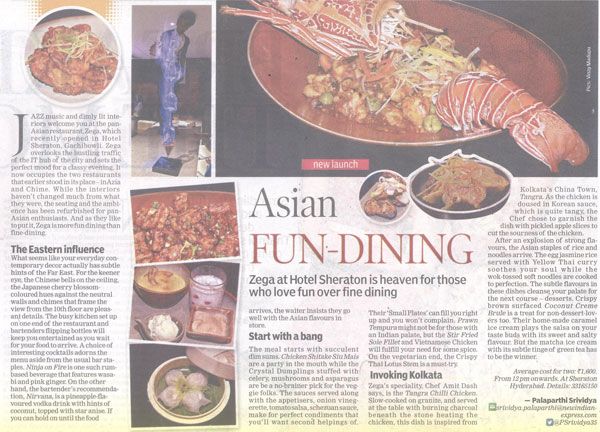 Original Article Courtesy : The New Indian Express - June 2017 issue
_____________________________________________________________________________________________________________________________
Amazingly Asian
Original Article Courtesy : The Hindu - June 2017 issue
Articles - 2016
Rise and Shine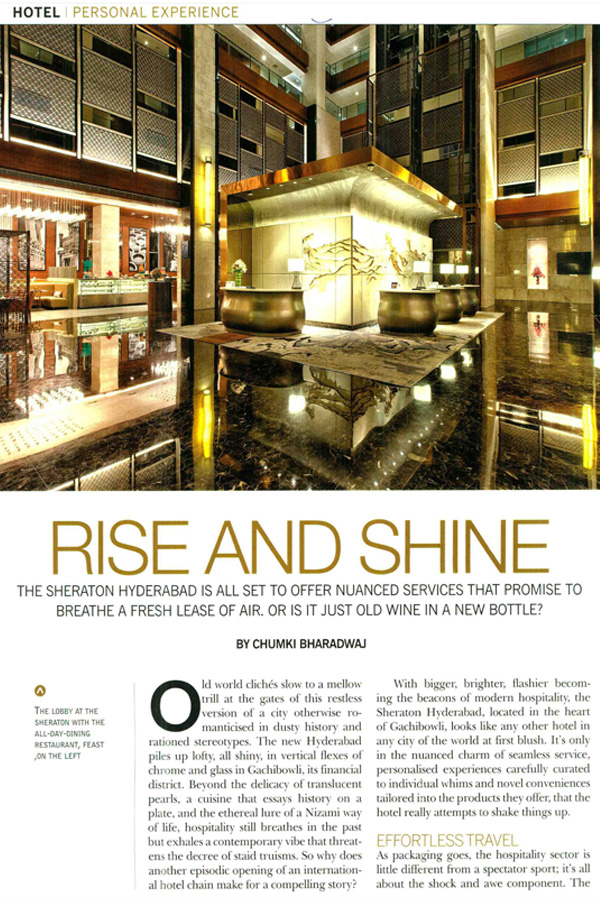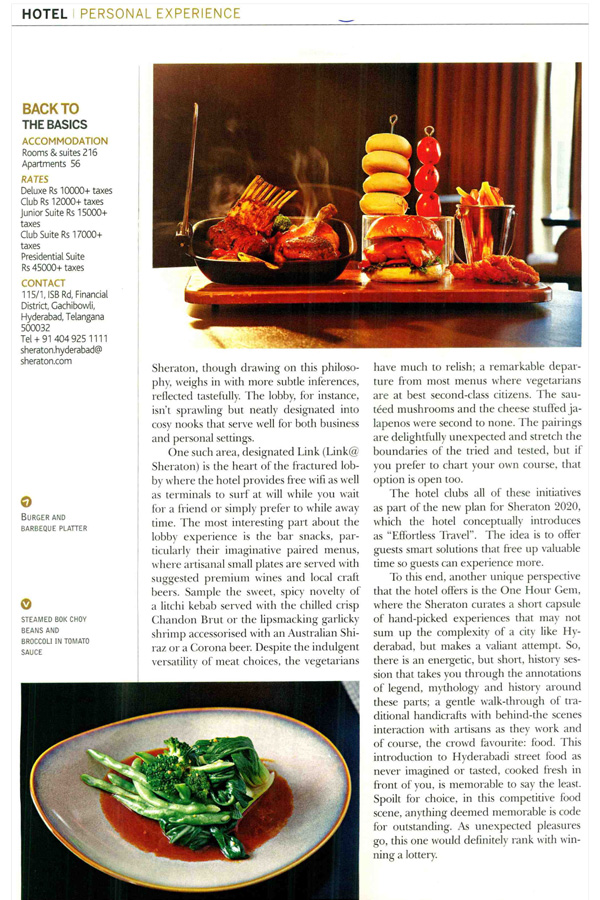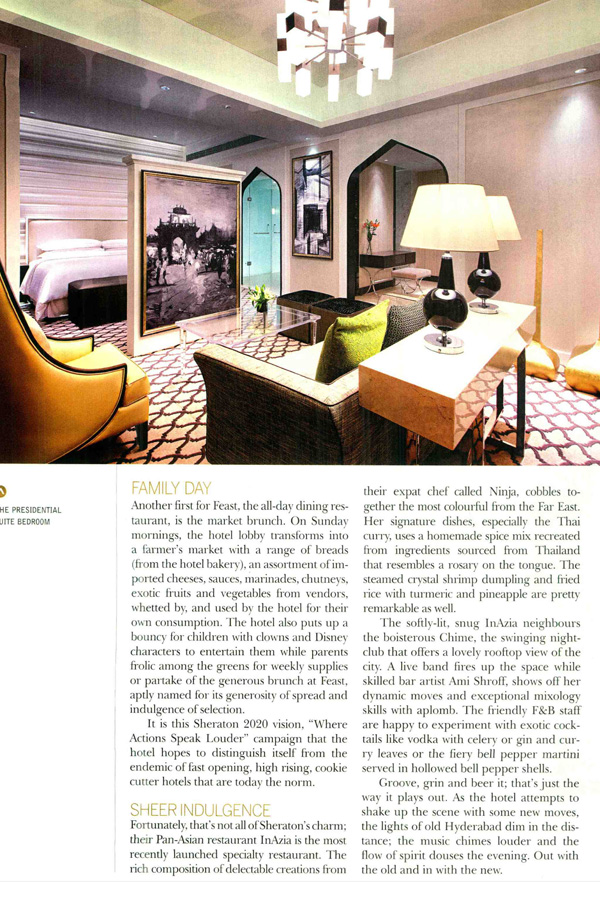 Original Article Courtesy : India Today - Spice-May 2016 by Chumki Bharadwaj - May 2016 issue
_____________________________________________________________________________________________________________________________
The City of Pearls with Sheraton Hyderabad Hotel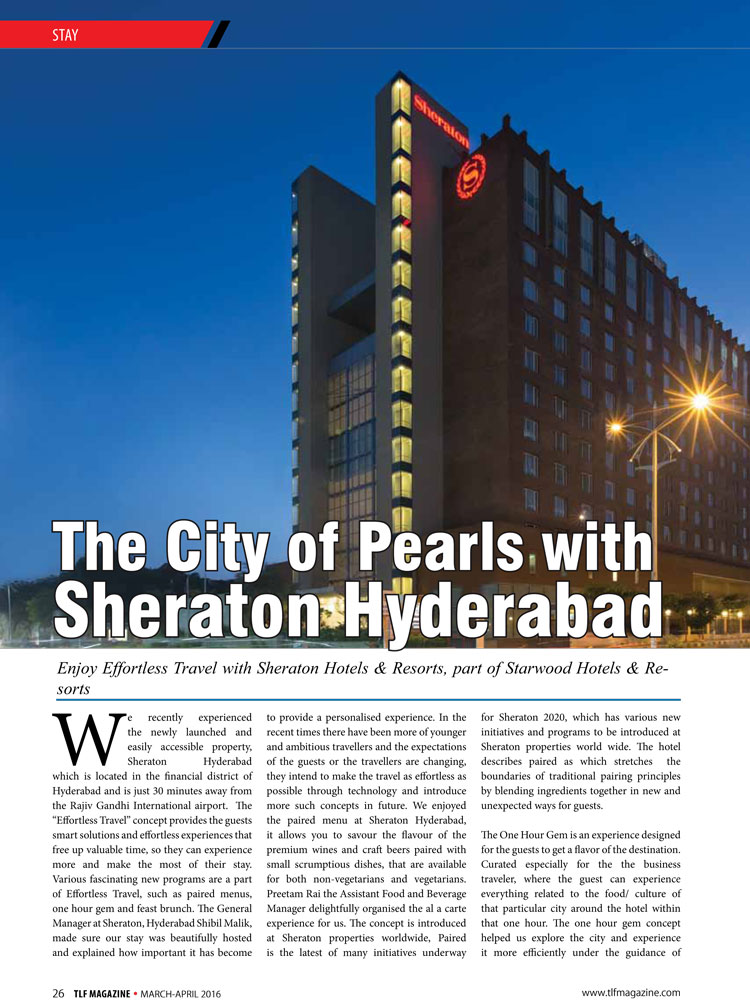 Original Article Courtesy : TLF Magazine - March - April 2016 issue
_____________________________________________________________________________________________________________________________
Award for new kid on the block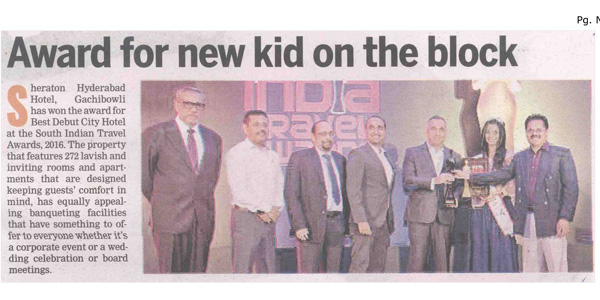 Original Article Courtesy : The New Indian Express - May 2016 issue